Plans
Old text from our 2020-litter:
We have this time been on a trip to the south of Rome to find the father of our next litter! We really look so much forward to seeing the result of this very special combination! Special to us, because we feel so privileged to be allowed to use this wonderful male with the most loving character, but also because we were lucky that a travel like this was possible due to the Corona-situation.
Thank you so much to his breeders for making this possible! It was so wonderful to meet the Sobers family again and a wonderful opportunity to have lots (!) of inspirational dog-talking about the breed and breeding in general. The generosity we were treated with during our stay is without comparison!
Sire is the young and stunning male:


SECH Sobers Titus


Titus is after Sobers Oberon and Nubiad'JJ Salsab'l Sabre Sobers


Titus has despite his young age and limited showing already made his mark in the show ring! In January 19, on his first trip to a double show in Sweden, he earned 2 CAC´s, 1xBOB and 1xBOS and a Crufts qualification! At the International show held in conjunction with the European dog show 2019 in Wels, Austria, he won the Res. CACIB. And in august 19, he was best male and BOS both days at the prestigious Sighthound show held in Donaueschingen and becoming Donaueschingen Winner with an entry of 79 (Saturday) and 72 (Sunday) IS/IG´s! In January this year he returned to Sweden and completed his Swedish Championship going BOB! In Italy he only needs one ticket for his championship.


Titus is carrying on the world famous Sobers tradition in the best possible way. He is the result of combining the classic Sobers lines with the most talented Nubiad-breeding from France. I.e. he carries top sires such as MultiCH Sobers Galante and MultiCH Nubiad´Versace.
Among many highly influential dogs Sobers Galante has sired one of my all time favourite males: MultiCH Caprice du Domaine des Chanteloup! And Nubiad´Versace we ourselves had the pleasure to use for our own G-litter, and siring our MultiCH Il Cagnolino Genghis Khan (twice breed winner of the year) and MultiCH Il Cagnolino Gemma (group winning and twice breed winner of the year). Thus allowing us to combine Versace from both the maternal and paternal side in our coming litter.


Temperament: Young, energetic and with a most sweet, gentle and loving character. An exceptionally beautiful head and expression – and using his little ears just perfectly! He is so full of IS/IG-attitude and all important breed details.


We feel very privileged and honoured that Titus´ breeders, Bitte & Pieri, once again trusted us to use Titus for a litter! This is only Titus´ second litter. The first litter in 19 we also had the privilege to be entrusted to us and we were so pleased with his first litter that we simply had to use him one more time!

Photo: by Sobers

Photo: by Sobers

Mom is our own:

Il Cagnolino Jazetta

Our little beige girl!

Jazetta is after MultiCH Italo Dei Raggi Di Luna and our own Group Winning MultiCH Il Cagnolino Gemma.

Gemma is after the fantastic sire Nubiad´Versace. Despite only being used very limited in breeding he has sired some of the recent years top winners in the breed. At the World Dog Show17 he was the sire of both World Winners!

Jazetta has also made her mark in the showring, earning the following titles:

INTCH NORDCH DKCH SECH NOCH VDHCH DKJV16 NORDJV16 KBHV17 18 Danish Winner 17 18 19

In 17 & 18 she was breed winner of the year no 2 (both years after her kennel mate MULTICH Il Cagnolino Kenzo) and in 19 she was no 3 (after our own MULTICH Il Cagnolino Kenzo and European Junior Winner 19 CH Il Cagnolino Lexia respectively)

This will be Jazetta´s second litter. She proved herself as the most loving and caring mom for her puppies in the first litter with all the desired natural "mother-instincts"!

Temperament: Outgoing, energetic and a real busy-body! The matriarch of our little pack. A real food-lover with a special nose for finding interesting treats in pockets etc. Enjoying the good life including sleeping in a warm blanket in front of the fireplace.

Jazetta is the result of 30 years carefully breeding at "Il Cagnolino" and dating back to the very first Italian Sighthound we got back in the 80´ies.
Don´t hesite to contact us if you are interested in our next litter!
mail: susie@bjorch-bogelund.dk phone: +45 91329518
Photos from former litters: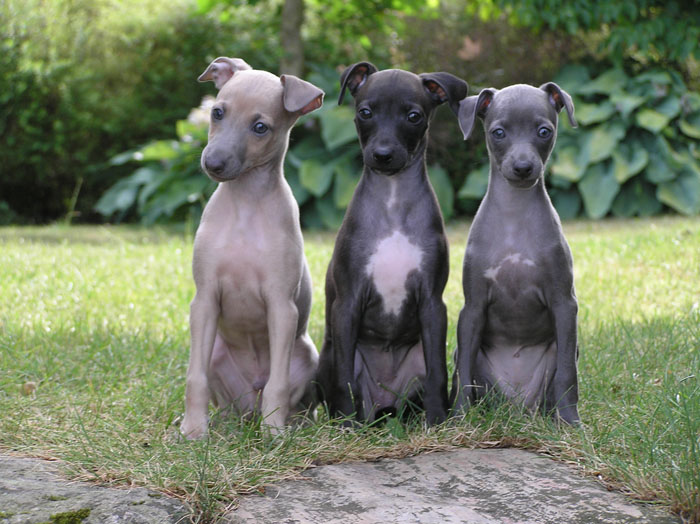 The IG come in three colours, beige, black and grey. Here represented by our Huzaro, Harietta and Hathea (Photo: Björch)