The last 2 weeks before Christmas have also been a busy time for our 4 little baby-boys! They are in the middle of the important socialisation period, and the boys are taken for small trips daily. Only small trips so they do not get too tired. If they are well rested they are open, positive and eager to learn all the new things we introduce to them. But if they get too tired, they are unable to experience the new things in a positive way which is so essential at this age.

Some of the trips have been more "pleasant" than others. Here seen at the Vet at 8 weeks old having their health check and 1. vaccination: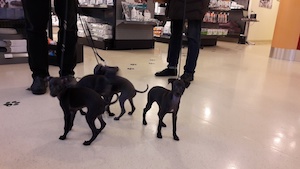 The ID microchip was implanted a few days before the visit to the Vet. Despite a little screaming when "stung" they soon forgave the visitor from the Kennel Club. The ID marking and 1. Vaccination is not something that we cherish – it really feels awful to have to do something unpleasant to the puppies that show us unconditional trust. But the 4 boys luckily seemed to forgive us and the vet/ID marker right away :o)

The boys visiting:

A shopping mall in Odense, and their longest car drive (0,5 hour) where they initially charmed two little elfs and a few minutes after we all were surrounded by people – and the boys loved all the attention!

Visiting a pet shop – also Odense:
A trip to the railway station, including a parking garage, lift, escalator and the platform: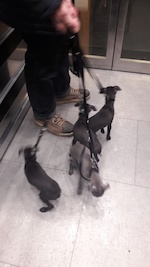 On a trip to Ringe and the pet shop Lady & Vagabonden – for new collars and leads:
The weekly visit at the local library:
And here on a trip to Faaborg – also a shopping mall where the Vet clinique that we attend also has a clinique. And the boys really loved this visit with lots of treats at the clinique:
The small boys are gradually being introduced to softer bedding – and they love it! Here together with mum Inuccia and reserve mum Lexia: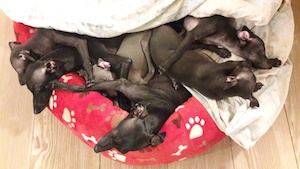 Italians really like to be close with other dogs and humans – so despite of several beds in our kitchen, they almost always sleep in the same bed. Here they have chosen the smallest – but still room for mum and reserve- mum also :o)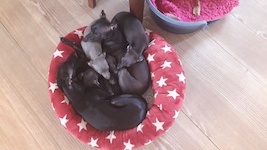 The boys really have so much fun playing together – and we change the toys daily in order to keep their interest awake. We also introduce them to different challenges. Here with a soft pillow filled with air. And they love it:

After having played or being on the small trips they love to curl up together at our lap – such a wonderful feeling when they one at a time seek us as the preferred place for their beauty sleep: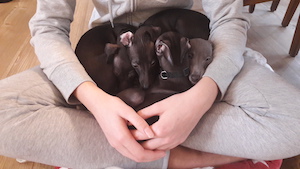 The first part of the N-boy´s puppy-hood are soon coming to an end and the boys have been through an enormous development during the first 9 weeks. From the little hippoes they were at 2-3 weeks old and more similar to labrador-puppies, we can now begin to see the making of the small elegant sighthounds they soon will become (8 weeks & 5 days old):