Our four sweet boys at the edge of turning 5 weeks old:
The puppies now see and hear quite well, and are now able to navigate towards us even if we are quite far away from them. The hearing seems to be better than their vision at this time, they navigate best towards us when they can hear us calling for them. They now also have their little mouth full of sharp puppy teeth – and are slowly beginning to use them – Silence before the storm……. :o)

The social activities are now raised. They meet new people, young and old, and the four boys are very popular with the friends of Krister and Ulrikke :o) No doubt the sweetest dogs in the village :o)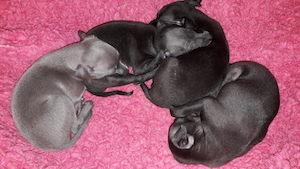 The boys still sleep most of the day, but when awake they constantly rehearse their ability to walk, trot and even how to gallop. They also practice how to jump, i.g. how to come from the edge of the bed and down on the floor. They tumble all the time and once in a while bump into table legs etc. They make a little scream when bumping into something but continues in the same speed afterwards and are rapidly making progress day by day.

From the beginning of the week they have started to explore some of the other rooms in the house. Here you see the first two little globetrotters realising that the world is much larger than their beloved home base (the kitchen/dining area):

Mom Inuccia enjoying her puppies to the full:

Exploring other rooms in the house also make the boys familiar with different kind of flooring. At the end of this week it would normally also be time to go for a visit in the garden, but this autumn has been historically rainy in Denmark, and this week is no exception. We hope for some days without rain next week so the boys can come outside for the first time :o)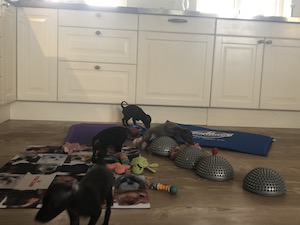 3 small videos of the boys playing:
4 weeks and 6 days old: