From the age 3 to 4 weeks a lot of things happen with the puppies development. They are now so big and eager to explore their surroundings, that it was time to move out from their first "home" - the whelpingbox – and into a bed with a little softer bedding, but still nothing that they can get stuck under when mom Inuccia lays down to nurse the puppies. One of the breeds trademarks is their love for soft, warm blankets, but the puppies inherited instinct to hide under blankets will have to wait a little while and untill they are bigger & stronger.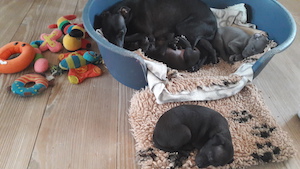 This week the puppies have also had their second nail-cutting. All while sleeping their beauty-sleep. It was also time for their first deworming. One of those tasks that nobody here in the household really wants to do. We are feeling a bit guilty when we have to put the medicine in the puppies mouth, and to see all their signs of disliking the taste. But nothing better afterwards than to crawl closely together with Inuccia for a little drink of milk and relaxed sleep afterwards: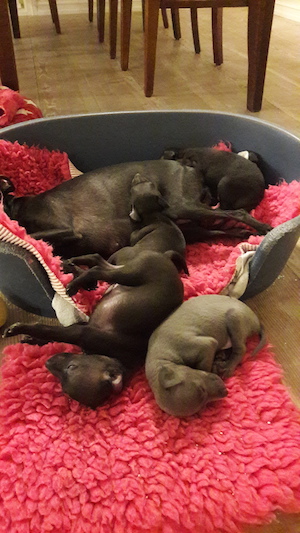 At the age of 3 weeks and a couple of days they where introduced to puppy food for the first time. Always a bit messy in the beginning. The puppies still have a rather poor vision and are not fully coordinated in their movements, so they tumble into the food bowl, walks through it i.e. Here you can see a video of one of their first attempts at eating: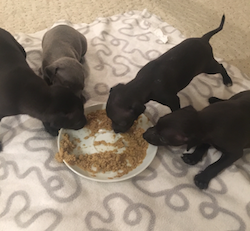 The puppies still sleep a lot every day, and can only stay awake for 5-10 minutes at a time. And when you have eaten, played and bullied your brothers and fall asleep after exploring a new corner of the kitchen it is so good to curl up together with your brothers & mom or on our lap:
The puppies future ability to show trust in humans are based at this very young age – the socialisation period has now started. Being close with humans and being touched and cuddled make the puppies prepared for their future ability to live happy and close together with humans. This for sure is one of the "tasks" where the whole family very freely want to give a helping hand – being close to the puppies, letting them explore you from top to toe and to feel their 100% trust in you when they seek to you for their sleep after their adventures, is the most wonderful feeling and so very life affirming!
During this week it has also been time to introduce them to the rest of the 4-legged family. This is also part of their socialisation-programme.
We started to introduce them to the 3 adults one by one, and the 4 boys simply loved all their "aunties". Here Nitino together with our Hathea: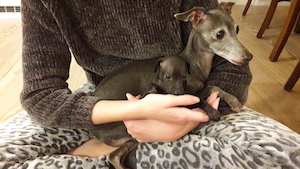 From 3 weeks and on we also start their "sound training programme". We introduce them to all kinds of potentially scary sounds like thunder, gunshots, traffic, babies crying i.e. And they sleep, eat and play totally unaffected. At this age the "background music" is still at a low volume but it will gradually be raised during the next weeks.
Video of the boys "playing" at the beginning of the week:
The boys at 3 weeks and 6 days: