After many considerations and consulting breeders for advice we decided to use the young and stunning CH Dipsy du Domaine des Chanteloup. Despite his young age he has already remarkable results including BIS under Bitte Ahrens. Dipsy´s father is CH Tipsy du Domaine des Chanteloup (top stud in France) and his mother is CH Anthinea du Domaine des Chanteloup (a beautiful bitch with wonderful show results to her credit. Including winning the European Championship twice). Dipsy is owned by Karolina and Piotr Szymanski, Forum Romanum.
The mating had to take place exactly when the family started the Easter holiday, so we all drove to Lodz and spend 5 wonderful days in Poland with plenty of time to enjoy the first real warm spring weather, walkings with the Ig´s and shopping.
The visit at Piotr and Karolina also gave us the opportunity to meet our Fernando again (brother to our Felicia and Fiona). He has done so well in the show ring and has proven himself as a sire of several promising litters already.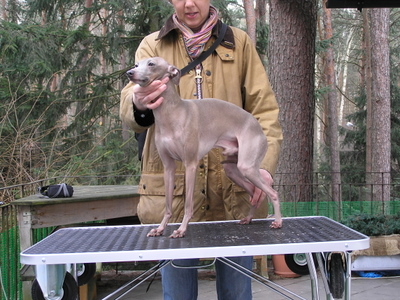 Multi CH Il Cagnolino Fernando