Plans
Puppies born 4th of January 2018 after this exciting combination!
We have this time been on a trip to Bourgogne to find the father of our next litter. We really look so much forward to seeing the result of this very special combination! Thank you so much to his breeders for letting this be possible!
Sire is the young and stunning male:

French Champion and National French Champion

Midnight Poison Du Domaine Des Chanteloup

Midnight Poison is after FRCH INTCH Hynotic Poison Du Domaine Des Chanteloup and World Winner FRCH INTCH Grisabella Du Domaine De Chanteloup

Midnight Poison has despite his young age already become French Champion. He won all the obligatory points for the French Championship in his first show season! This includes winning the CAC at the French Winner Show (Nantes17) and the CAC at the French National Speciality (Pompadour 17) as well. Only one of these obligatory CAC´s is needed for the French Championship. This autumn he has also become Reserve Best in Show at Poiters IDS (>2000 entries) and thereby walking in his Best in Show-winning mom´s footsteps!

Midnight Poison´s grandmother (Grisabella´s mom) is the stunning FRCH INTCH Bella Stella Du Domaine Des Chanteloup. Among other amazing wins she was Best in Show at the prestigious French Speciality under breed specialist Mrs. Bitte Ahrens, of Sobers Fame.

Midnight Poison is the result of a line breeding back to the magnificent male MULTICH European Winner Be Bop Du Domaine Des Chanteloup. An icon of the breed.

Temperament: Young, energetic and full of hunting skills. Bursting of masculinity and so full of IG-attitude! A wise and intelligent look in his beautiful dark brown eyes. An exceptionelly beautiful head so full of expression.

We feel very privileged that Midnight Poison´s breeders trusted us to use him this early in his breeding career. We will do our very best to live up to their trust!






Dam is our own beautiful:

Il Cagnolino Inuccia

Our little black gem (only 33 cm in size!!)

Littersister to our Junior World Winner14, Junior European Winner14 MultiCH Il Cagnolino Ietano

Inuccia is after World Winner MultiCH Valerio Dei Raggi Di Luna (No. 2 all breeds in Italy!) and our own Group Winning MultiCH Il Cagnolino Gemma (twice breed winner of the year in Denmark)

Gemma is after the fantastic sire Nubiad´Versace. Despite only used very limited in breeding he has sired some of the recent years top winners in the breed. At the World Dog Show17 he was the sire of both World Winners!

Temperament: Sweet, calm and loving. A real couch potato that prefers a warm lap in front of the fireplace instead of outdoor activities on cold rainy days not to mention frost and snow :) She has proved herself as the most loving and caring mom for her puppies. So full of natural "mother-instints".

Inuccia is the result of 30 years carefully breeding at "Il Cagnolino" and dating back to the very first Italian Greyhound we got back in the 80´ies.
Don´t hesite to contact us if you are interested in this exciting combination!
mail: susie@bjorch-bogelund.dk phone: +45 91329518
Photos from former litters: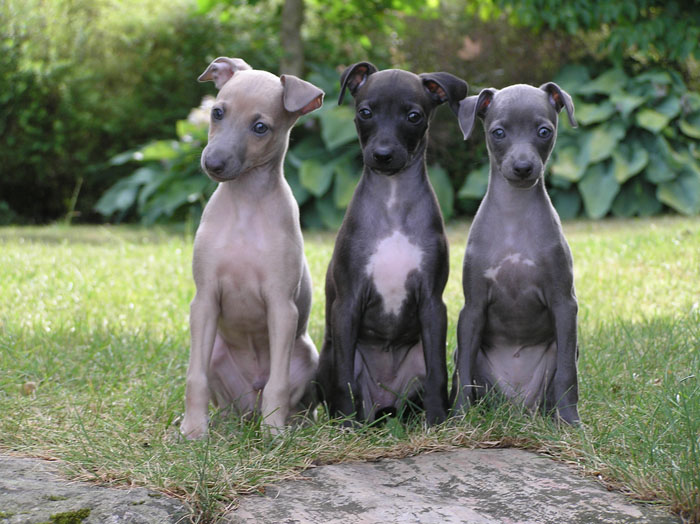 The IG come in three colours, beige, black and grey. Here represented by our Huzaro, Harietta and Hathea (Photo: Björch)