Having turned 9 weeks old the 3 musketeers are busy experiencing the world. Due to the cold weather in January puppies so young can only be outside for a short while before they start to get cold. When they first are getting cold it is not possible for them to preserve sufficient energy and mental strength to meet the world and enjoy good and positive experiences.  At this particular time of puppyhood, it is especially important to practise good socialising, and we therefore try to find equally good indoor activities, that will allow the puppies to meet new people and other dogs.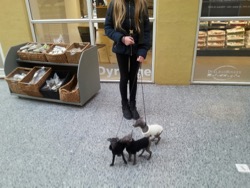 This week the 3 youngsters have been visiting the shopping centre in Odense and Faaborg. In Faaborg there are a department of the collaboration of Vet Clinique's that we normally use. We normally use a Clinique closer to our home, but the staff circulates between the Clinique's and know us, so we were invited in behind the Vet-store and had a closer look at the vet-consultations etc. The 3 little noses were working on high speed due to all the interesting scents and they willingly followed the vet-nurse round in the Clinique. Afterwards we continued the trip in the rest of the centre and also had a little training walking on stairs :)
When the weather allows we also have small walks outside. Here seen on a trip to Odense in order to get acquainted with noises and experiences typical of a larger city.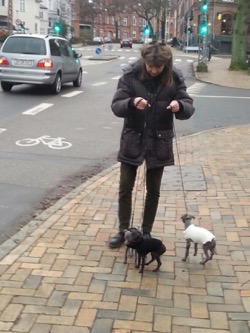 From 8 weeks and few days after their first vaccination we started on a training class only for puppies (indoor :) ). At that age they had only meet the Iggy pack, so meeting other breeds, sizes and coating are a whole new world opening! And the 3 musketeers are so brave and curious. Already after the first lesson they had got several new best friends :)
We try to let the puppies have experiences with different flooring, eating and sleeping in different rooms in the house. When they get a little older we will increase the length of the trips and bring the food with us on the trips.
Here you can see the 3 siblings having their first experience with taking the food from a balance board:
https://www.youtube.com/watch?v=EgSUaQE9IkQ