We could not think of a better start for the New Year than Inuccia giving birth to a wonderful litter!
After a long and impatiently waiting for this special litter our Inuccia finally gave birth to 3 little wonders on Wednesday night, the 4th of January. What a thrill to see these little puppies wander direcly to the "milk bar" after a long and exhausting journey through the birth canal. Nobody had to tell them what to do first thing after a birth: to drink MILK :o) The 3 newborns are remarkably equal in type and size, only 8 g between the "largest" and the "smallest".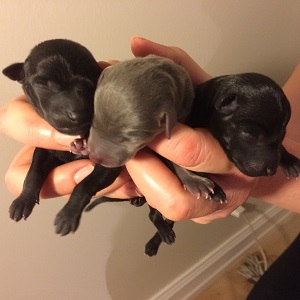 Let´s introduce:
| | |
| --- | --- |
| No. 1 - A black male | |
| No. 2 - A grey female | |
| No. 3 - A black female | |
To see these little wonders start their lives, so full of energy and willingness to live, is such a pleasure and a privilege that we will never get tired of! So life-affirming. 3 little personalities ready to conquer the hearts of our family!
Only a few hours after the birth we took this video of the little dog-family:
https://www.youtube.com/watch/?v=5OU2cUKs4Mk
For new born puppies life is all about drinking milk, sleeping, drinking milk, sleeping...... :o) The photo reflects that perfecly :o)