The very best wishes for at wondeful and happy New Year 2018!
Here the whole family "jumped" into the New Year still eagerly waiting for Inuccia to reveal what her stomach is holding :)
Time is getting closer - her stomach is beginning to look like a stretched water melon :)
Photo from today 1st of Janyary (the wasp waist long gone) :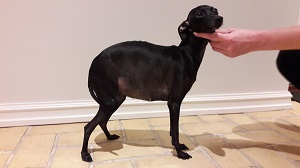 Birth is expected any day now and she is constantly under observation to be able to pick up the very first signs that the labour has started!
The puppies are now fully developed and easy to feel when moving and kicking under Inuccia´s skin. When she is relaxing it is even possible to see the puppies "making their excercise". You can get a little glimpse of the activity level at this video:
https://www.youtube.com/watch/?v=E8uMFRmjFv4
PS. sorry for the back ground noises :) Fawlty Towers on the TV....