3 Girls (……and 1 boy....) having fun in Leipzig!!!
Kenzo made us all so proud winning the Junior World Winner title and no. 3 in junior Best of Group! We really enjoyed every minute of this magnificent show and had so much fun meeting old friends and getting new acquaintances. Not to mention the fun with celebration afterwards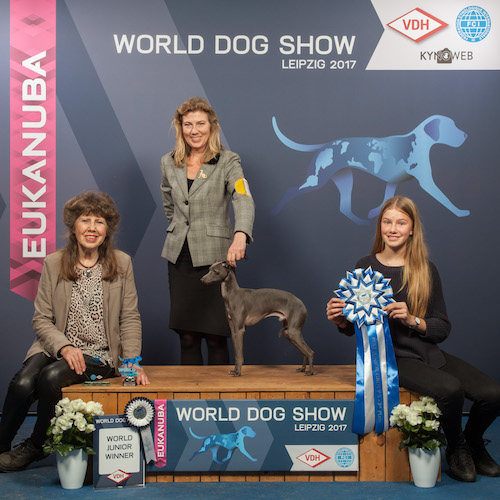  
Thank you Tone Fisher, NO, for letting us use MultiCH LoVoly´s Skyfall for this special litter and to Team dei Raggi Di Luna, IT, for letting us use MultiCH WW Valerio dei Raggi di Luna for the litter that produced Kenzo´s mother. And a very special thank you to Fabienne Becker,FR, for letting us use MultiCH Nubiad´Versace for our G-litter (Gemma is grandmother to Kenzo).
Thank you to the respected judges Mr Gerad Jipping, NL (breed) and Mr Stefan Sinko, SL (BOG junior)

Photo by: Kynoweb