Marcello and Mondo have had a wonderful Easter week full of nice and new experiences. In the beginning of the week they were on their first social visit :o) We paid grandma and grandpa a visit. This also include their longest car drive (8 km) so far and meeting dogs that they do not live with with daily. The adult boys living with grandma/grandpa were accepted right away and Marcello & Mondo behaved like they have been visiting many times already :o)

The twin boys enjoying new smells and impressions at grandma & grandpa´s garden: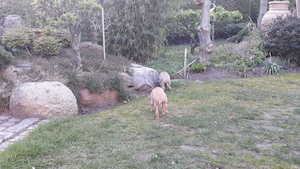 And saying hello to "big" boy Kenzo: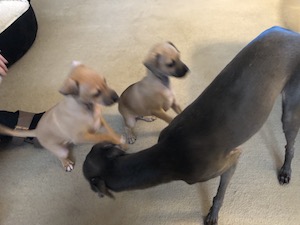 During Easter we have also had lovely visits by family and friends. This include a most pleasant visit by Lily, Rose and Andrea (and 2-legged family of course :o) ). 3 wonderful IG-girls living a most pampered life! (Lily and Rose are litter sisters to mom Jazetta and Hathea respectively). So wonderful to see all the dogs interact with each other including the two small boys! They accepted the 3 visiting dogs right away and all their sleeps during the visit were spent cuddled up closely with Rose. They seem to have got a new reserve mom (besides Inuccia) :o)

Rose with the boys:

Lily, Rose and Andrea in the garden together with our dogs. Including a little refreshment at the milk bar for the boys :o)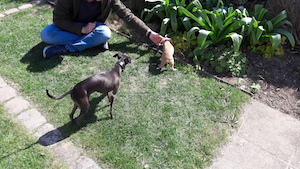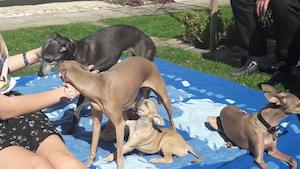 When we start introducing new rooms in the house to the boys, new parts of the garden or visit new places we always try to bring a bed with us that the boys already know. So when the boys are filled up with new impressions they have a well known and safe place to seek back to for rest. It help the boys feeling comfortable with all the new things that they know they have this "base" to return to when needed. We use the same principle when training them to use a crate/box. They use the "cave" just as another place to sleep and play in. Always with the door open until we after a few weeks gradually start to close the door for a few seconds in the beginning. The crate training is important for us so they have a safe, well known place to relax in for future cardrives, visiting friends, holidays etc.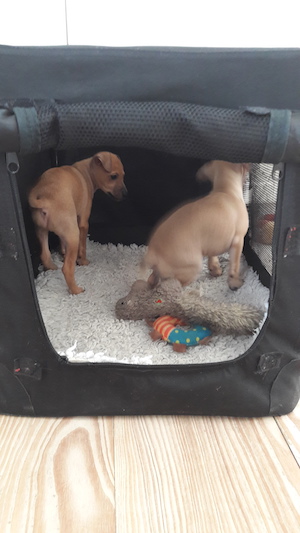 Marcello and Mondo enjoying the exceptionel warm weather during Easter - helping us gardening and running at the meadow:
video: https://youtu.be/22IUkFBiIRI
Boys only 6 weeks old still need a lot of sleep. For the first time Mondo succeeded in climbing into the "big" girls bed in our kitchen. He seems to be quite happy with soft duvets :o) (their love for soft blankets etc seems to be genetically :o) and one of the breeds characteristics). Marcello followed the succes the day after leaving no "puppy teeth free zones" for the adults in the kitchen :o)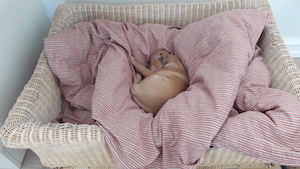 Marcello cuddling up together with Lexia and Inuccia: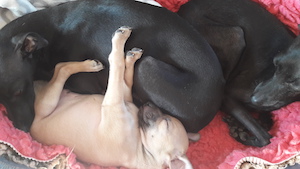 The boys under super vision by our Hathea: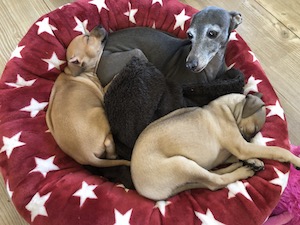 Little Easter bunnies helping unwrapping a present: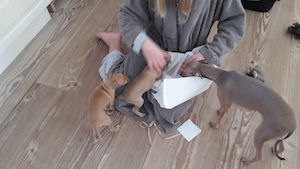 6 weeks old and just getting more and more cute: