We have had a super start of the show season with a visit to the double show in Berlin/Langerwisch in January!!
Kenzo could return home crowned as BEST IN SHOW at the Landessieger show held on Sunday!!
On day 1 (260119) Kenzo was BOB, and the team bagged a CAC, and 2xVDH. Judge was Mrs Anita Gielisse, NL.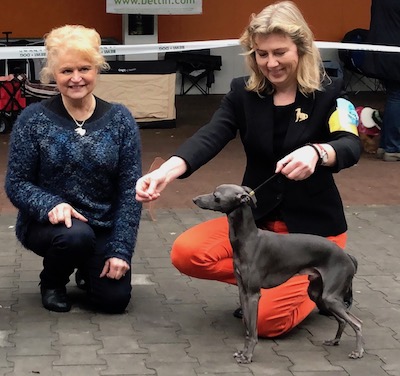 On day 2 (270119) Kenzo was BOB and in the end he crowned a most wonderful weekend going BEST IN SHOW under the respected Mr. Günther Ehrenreich, Austria. The team bagged 2 x Landessieger Berlin/Brandenburg, 1xCAC and 2xVDH!! We couldn´t be more proud of the team and especially Kenzo really showed himself from his best side in the BIS-final!! It is really rare that the smallest of the sighthound group tops the podium, but is feels so extra wonderful when they actually do ! Thank you all for making this show something to remember for a very long time!!