9 weeks old - and so adorable! They really have stolen our hearts!
9 weeks old also mean that they are in the middle of their important socialisation period. Every day bring new positive experiences/adventures. Here the girls are seen charming the owner of the pet shop in the city Ringe - they were photograhed for the shops facebook - the sweetest visitors of the day :o)
LaVita and Lexia have also been visiting the railway station in Odense. They had their first experience with indoor parking, lifts, escalators and of course the big and noisy trains. They were so brave! We also took the opportunity to train the diciplin how to walk on stairs. The little athleets didn´t find that difficult at all!
Needless to say that they were popular among the train passengers - also here they were photographed :o)
The girls also dragged a lot of attention when vi visited the large pet shop called "Pet World". They even got very good friends with a nice dachshound
Meeting other kind of animals is also part of the girls "training program". Here getting aquainted with two horses that Ulrikke know very well:
No doubt that the girls are little sighthounds - the slow swimming action of the ducks at this little lake easily caught the puppies attention.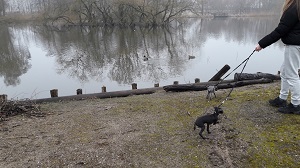 All the adventures are best digested sleeping closely together. Here 3 generations curling up together. Grandma Gemma, Mom Inuccia and the two puppy-girls. It is incredible to see how they are aware of the close family relationship - family matters!
9 weeks old - and beginning to look like the elegant little sighthounds they will soon turn into:
| | |
| --- | --- |
| | |
| LaVita | Lexia |