The two litter-sisters have now turned 8 weeks old - and are just getting sweeter and sweeter:
The social activities are slowly enhanced, and every day they are now taken on new adventures or seeing places which have already been visited before. Here on the local library saying hello to the dino in the childrens corner.
They have also been to their first "show training class" - not to participate in the training at all at this tender age, but to say "hello" to other dogs of different breeds. From large dogs with very short legs (Basset hound) to the breed with the longest legs of them all (Irish Woolfhound). The two girls were so couragerous!
Here "shot" while entering into the class:
This week the puppy-girls have been visiting our local vet to have their first vaccination. They liked the treats before the vet vaccinated them, but afterwards only LaVita forgot the things he had been doing to them and continued eating the treats supplied by the vet. Lexia first found them worth eating again when safely back on the floor - she was not that forgiven :o)
Our second trip to the shopping mall in Odense was a great succes. The two really dragged a lot of attention and said hello to a lot of very kind people. We believe that quite a lot of families now have children begging for having a little IG-puppy :o)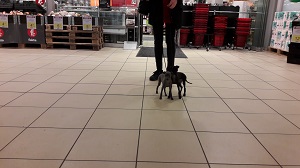 After a long and very cold period with frost and snow we finally have had some weather that are beginning to feel a little like spring. The girls are really appreciating the change in weather, and we have also started with small walks in the sourrounding area:
LaVita and Lexia are now also becoming keen little "kitchen-helpers" :o) One of their favorite "duties" is helping filling the dish-washer :o)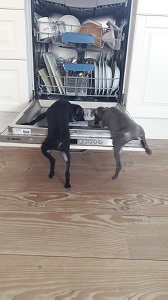 The "dynamic duo" also helped unwrapping a present for one of the 2-legged family-members. The present was not at all interesting for the girls, but they had much fun playing with the ribbon:
see the video https://www.youtube.com/watch?v=2JH8Zwqpt18
| | |
| --- | --- |
| | |
| LaVita | Lexia |